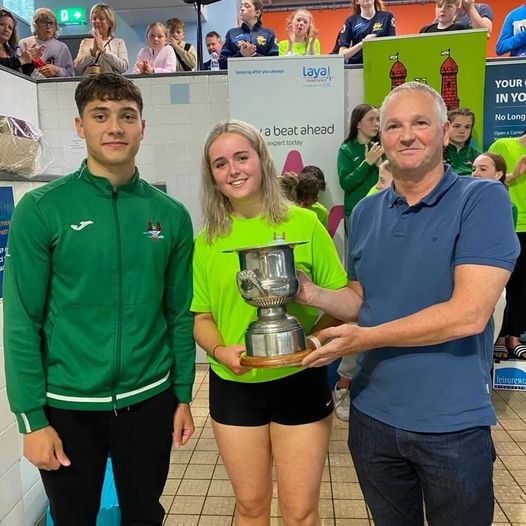 For many years the Michael Bowles gala has been a showcase for SWSC. Held in our "home" pool in Douglas, it demonstrates the best team performance by our swimmers, coaches, officials, administrators and membership in general. This year was particularly exciting, as it was held after two years of shutdown as a result of the Covid pandemic. A total of 329 swimmers from 18 clubs throughout Munster took part, with SWSC winning the overall trophy, as they have done in most years since its initiation.
The two-day competition consists of more than 100 individual events in four Age Groups-10 to 12, 13/14, 15/16 and 17 and over, with 4 x 50 Medley and Freestyle relays at 13 and under, 14/15 and 16 and over. Points are awarded to the first six in each event (6, 5, 4, 3, 2 and 1) with double points for relays. Four awards are given for the best senior woman and man, and the best Junior girl and boy. Swimmers can score in six events with the overall swimmer of the meet, in the event of a tie on points, being decided by the FINA point system
SWSC had a team of 65. Amazingly our team had 193 personal best (PB) swims. For younger swimmers this was a function of the long lockdown, since they have grown considerably and are now substantially faster, but the older swimmers also had many PBs. Full results are given elsewhere on this website but here are some summary statistics.
SWSC won 40 gold medals out of over 100 races. Andrew Feenan and Isabel Kidney each won six events, with Beth Nolan winning five and Rory Lee four (plus the Conor King trophy, as described below). Lauren Farr, Grace Lynch, Caolinn O'Connor, Michael O'Driscoll, David O'Leary, Sean Bugler and Vincent Kopczynski each won two events, whereas Antonina Sech, Ciara Gardiner, Carrie Harrington, Marc Galland and Dylan Gunn won one race each (see results for details).
SWSC won seven of 13 relays (being beaten in the 13 and under girls MR and FR by a great team from Dolphin SC). Andrew Feenan won the top male award, with top female and best swimmer of the meet award going to Hanna O'Shea of Dolphin SC, as it had in 2019. Isabel Kidney won the Junior girls top award, with the Junior boys award going to 11 year old Anton Nieuwoudt from Limerick SC. All of these swimmers won six events. Though winning less events, the fastest sprint freestyle of the meet was demonstrated by Noah Switzer of Dolphin SC. Rory Lee narrowly beat Noah in the special 50 butterfly race dedicated to the memory of Conor King, who died in an accident last year. Conor was a stalwart of SWSC and a great butterfly swimmer.
Special thanks must go to our more than 30 sponsors and particularly to our overall meet sponsor-Laya Healhcare (and to our sponsorship sub committee), and to Mary Haughney, Swim Ireland President and her team for their highly efficient officiating. This competition demonstrated some of the best of Munster swimming. The challenge will be much greater in the upcoming National competitions.
Tom Cross
SWSC Chairperson
https://sundayswellsc.com/wp-content/uploads/2017/12/WEBSITE-TEXT-LOGO-Swim-Ireland-Affiliate-300x95.png
0
0
Andy Feenan
https://sundayswellsc.com/wp-content/uploads/2017/12/WEBSITE-TEXT-LOGO-Swim-Ireland-Affiliate-300x95.png
Andy Feenan
2022-06-13 11:02:45
2022-06-13 11:02:46
First Michael Bowles Memorial Gala Since 2019 and it was Great!